Affiliate Training Now is a participant in the eBay Partner Network, an affiliate advertising program designed to provide a means for sites to earn advertising fees by advertising and linking to eBay.com
Hey, everyone, how is everyone doing today?
I hope you all had an amazing time over the season's end of year break as I know I did.
You may or may not have heard of these earbuds that we are reviewing today, and if you haven't then stick around because I believe you may like these.
Sony has always made good earbuds wireless, and headphones but depending on what you're getting in terms of price and comfortably always matters and when I saw these earbuds I knew straight away that they were something that needed to be reviewed.
If you like the Apple Beats X then you may find yourself truly like these as well because they look the same, that which I wanted to review them because I think they are a state-of-the-art design.
We'll start by looking at what the technical aspects of the WI-C300 are and how they will go being worn by the average human.
If you were to ask me, what is the best wireless headphones? I would quite happily respond, let's find out!
Topic tech specs:
Driver unit: 9mm
S-Master X: No
DSEE HX: No
Frequency response: 20Hz-20,000 kHz (44.1kHz)
Passive operation: No
NFC: Yes
Included features that which also come with these earbuds
Easy Bluetooth with NFC
Up to 8 hours battery life
9mm Neodymium drivers
Behind the neck style
Smartphone capability
Now the first thing that stands out with these earbuds is the fact that the battery sits at the back, so literally directly on the center back of the neck is where the battery is located. Apart, from that they are nearly identical to the Beats X by Apple.
Now, as we talk about the design of the extreme make is a little bulky, and as I compared them to Beats X they are in no way as slick and sleek looking, but you are paying only a fraction of that price as well.
The buttons are not easily worked and require more force than other more expensive brands of earbuds, now I don't mean they are super hard to press down, but they do require extra force.
I don't recommend them for training because compared to so many other pairs, they don't have any four colors for seeing in the dark nor any app features that you can work out to. Because of the limited features it doesn't mean you couldn't take them to the gym, it just means they wouldn't be suitable.
The control center is on the left side of the earbuds and what it houses is the track skip, play/pause, and answer/hang up.
The looks are not bad in but in size it is quite a big housing structure. As before when I was comparing them with the Beats X, the design looks the same but the Sony WI-C300 is a little more bulky.
Now I know they are totally different, I mean this pair of earbuds retail $89.95 AU, but I said that so you would have a clearer picture as you were reading the article.
The control center is close to your mouth when wearing the earbuds which is good for when you're answering and making calls.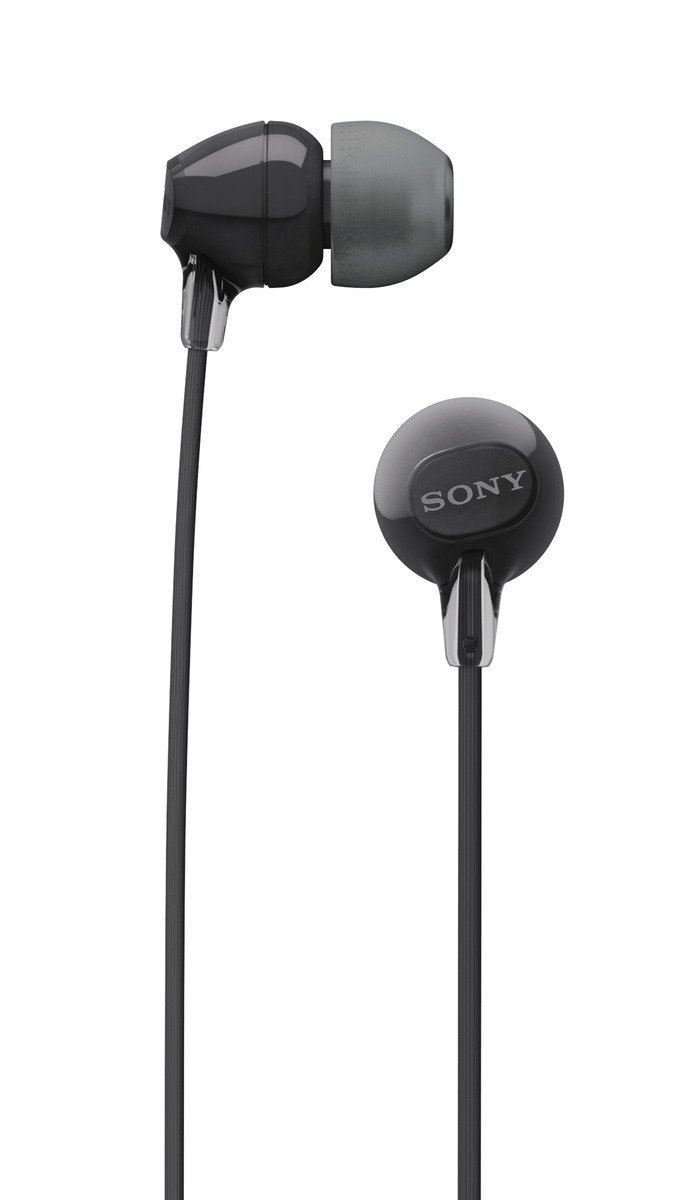 Looks
The looks of these earbuds are really good, they don't look cheap at all. The fabrics that they have used to make these earbuds look more high end with an expensive type of durable plastic, and this is what I like when buying knew earbuds.
The packaging of the earbuds is a 4 by 8-inch square box that is neatly presented. It comes with instruction manuals on the box and inside in the booklet form.
I must admit the earbuds very tiny and that is what makes them more likable. They aren't big and bulky, which makes them feel so much nicer holding and using.
The colors that the earbuds come in is red, white, blue, and black. To me, the white pair looks the best, but some might say the black look the best, which is another positive opinion. The black pair come with gray ear tips which makes them look grouse.
If I was to give them a star rating then I would definitely say 4 stars. I hope by giving them the star rating early in the review it will make you get a pair quicker because they are a necessary earbud to have.
Between the bass and drums there is a clear separation and when being turned right up there is no bass distortion. The overall sound has a high energy sound that is fun to use and listen to. The mids and bass power all the vocals, which means it has a good range of highs within its structured sound, and again with a clear separation of each sound wave. If you like bass then these earbuds may be for you.
The charge time for these earbuds is 2 hours so with a full charge, you will get eight hours. Now, with eight hours of charge that is what I'm looking for when buying a new pair of earbuds. Anything less than this won't last all day and most people need something that can last all day. Standby time is 200 hours.
To charge this device, it comes with a micro-USB cable, so simply plug it into the wall or any power socket and after two full hours you're good to go.
Even though these earbuds are absolute work horses in the way that everyone has a pair, they are made with a smaller type of wire that isn't as durable as more expensive earbuds. The Bluetooth wire is very tiny and thin and isn't very tangle free, but nonetheless don't tangle.
Overall
My overall thoughts on these wireless Bluetooth earbuds is that if you buy a pair, you will love them. Do you know when you are searching for a new pair of cheap earbuds and always get something you don't like? Well with these earbuds that's not them. They are absolute work horses and very necessary for anyone constantly on the go.
No Matter what your doing these earbuds are great, it's just if your training there are limited features compared to a more expensive brand.