Affiliate Training Now is a participant in the eBay Partner Network, an affiliate advertising program designed to provide a means for sites to earn advertising fees by advertising and linking to eBay.com
Hey, everyone,
I hope everyone is having a good time wherever you are, The festive season has nearly finished and New Year's eve is in just a couple more days, So I wish you all a happy new year also.
Todays review is on the MDR-XB50BS which are wireless Bluetooth earbuds and this line of Sony earbuds are the extra bass version.
Today we are going to find out just how bassy they really are and if all the type hype really does satisfy the ears.
You may be surprised by the way they look because they sort of look a bit business class but they are actually a sport earbud. Now other people may have different views on that but that's just me.
What makes a good sports earbud is the water-resistant properties and the technology that enable you the be able to get the earbuds wet without being damaged. That is with this case in the scene that they do sport the waterproof factors, not only that but the battery life is rather durable as well.
The device's features are Bluetooth, NFC, IPX4 water resistant, HD voice.
Fist nicely and sweat resistant, also price efficient and affordable
To start the show off they are a few nice features to have when searching for your next pair of Bluetooth earbuds. If you come across a pair of earbuds that don't sport these features then you may want to head back to Earbuds FIRST to find a better pair.
The MDR-XB50BS do have all the controls on the earbuds and a quite easy to use and navigate through.
If you were to ask me, what is the best wireless headphones? I would quite happily respond, let's find out!
Tech Specs: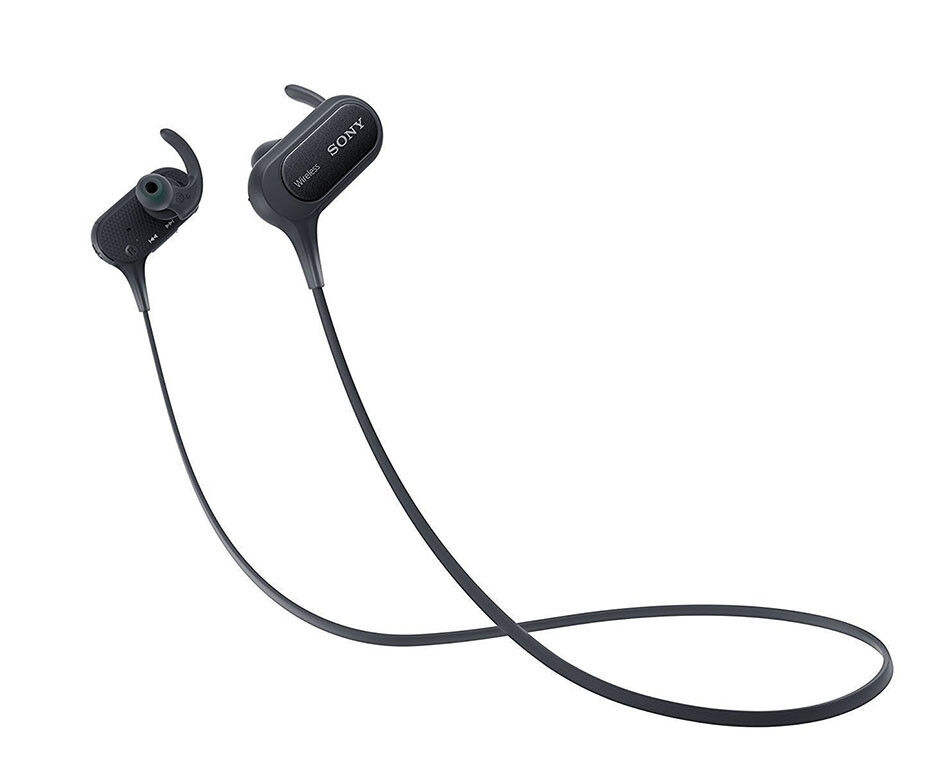 Driver unit: 12mm Dome type
Dynamic type: Closed dynamic
Magnet: Neodymium
Frequency response: 4Hz – 24,000 kHz
Volume control: Yes
Talk time: 8.5 hours
Charging time: 2.5 hours
Wearing style: In – ear
Colors:
In the box:
USB charging cable
Long hybrid silicone rubber earbuds (XS,S, M, L = 2)
Ear tip wings (ARC supporters): S, M, L=2
Earbud Cable
The earbud cable is a flat line type that is also tangled proof, that is always so you want to watch out for as you're making a purchase, because you don't want them becoming tangled all the time, especially when you're about to get out of the car to go to the gym. Flat line cable means the cable is flat instead of tube like or rectangle like. In terms of comfort I think it would make them fairly comfortable when wearing them. The length of the earbuds is around half a meter.
Looks
Now compared to most other earbuds these earbuds have a rather special design. The actually bud is rectangle unlike a round circle. The size isn't massive and whether you like that style is completely up to you, as for me I don't mind them. On the outer side of the speakers sports the Sony brand tethered across the side.
Noise Isolation
These earbuds are not completely noise canceling but because of the design they do offer some noise isolation. Depending on what you like, again, it's totally up to you. Noise isolation is very relaxing and takes away all the outside annoyance whenever listening to music. However active noise cancellation is something that blocks out every bit of noise leaving you totally in your own world.
Design
The design is of a rather cheap plastic that may be prone to scratching and breaking. These earbuds are not the most durable at all. Now I'm saying that I don't like them, it's just that I don't think they have put anything that really stands out in them or on them. They offer IPX4 which is waterproof, and some extra bass but that be all. I really think they have tried to totally skip the beat on these whilst no one's watching, but anyway let's move forward.
The overall talk time that these earbuds provide is 8.5 hours, now when looking for earbuds wireless I always try to look for something that lasts over 6 hours. To have hands free for 8.5 hours is something that many people will take into consideration when choosing some earbuds.
Weight
The earbuds are approximately 22 grams in weight which is pretty light for earbuds. Now something with earbuds and weight is the fact that if they are too heavy and you are running or moving swift they can become misplaced or miss lodged and fall out. 22 grams is the type of weight you want when looking for a sport earbud because you want to train in them.
ARC Supporters
Arc supporters is a special design through technology that makes the earbuds stay directly in place. If this technology was fitted to all earbuds it would be great if you have that issue where they keep falling out. Now this feature isn't something that is always totally necessary because earbuds are made with a precision that keeps them in your ears through the correction of your earbuds and the way you place them in your ears. ARC supporters are good to have but not mandatory. Some may know these to be ear-tip wings.
Connect Wireless
The Bluetooth wireless allows you to stay connected without needed to unplug yourself to handle business. These earphones have a strong connection to wireless and if you're looking specifically for a Bluetooth earbud then trying these could be an option for you.
Sound
Now we are here, the earbuds signature dish. These earbuds sport a loud bass with high low-end sounds and that is their hype. If you're looking for something that can listen to music mainstream then these are the ones for you. They pack a strong bass all the way through. Now, when your in bed listening to music you may want the buds to have a certain type of low level just enough that doesn't keep you awake and with these earbuds this is positive. Having that final click at the volume when you're going to sleep is something that many people will consider good or bad, so with these they have that perfect low volume level.