Affiliate Training Now is a participant in the eBay Partner Network, an affiliate advertising program designed to provide a means for sites to earn advertising fees by advertising and linking to eBay.com
---
Hey, everyone, how are you all doing today?
Todays review is on the JBL T110bt wireless earbuds, and by the way these were a huge hit when they came out and have been very popular ever since. If you are in the process of looking for a budget headset then this pair may definitely be for you.
These earbuds retail for $59.95 and in today's review we are going to dive in and see why they cost that much and whether they are worth it spec wise. The JBL earbuds also come in 6 different colors and they are Blue, Light Blue, Yellow, Pink, Black, and Gray.
If you were to ask me, what is the best wireless headphones? I would quite happily respond, let's find out! Well, let's start off the full review with the packaging first.
Good fit and high bass levels, also very affordable and really popular
Features:
More Bass
Flat cable
rechargeable battery
In-ear operation
wireless earbuds
Hands free calling
Siri/Google Now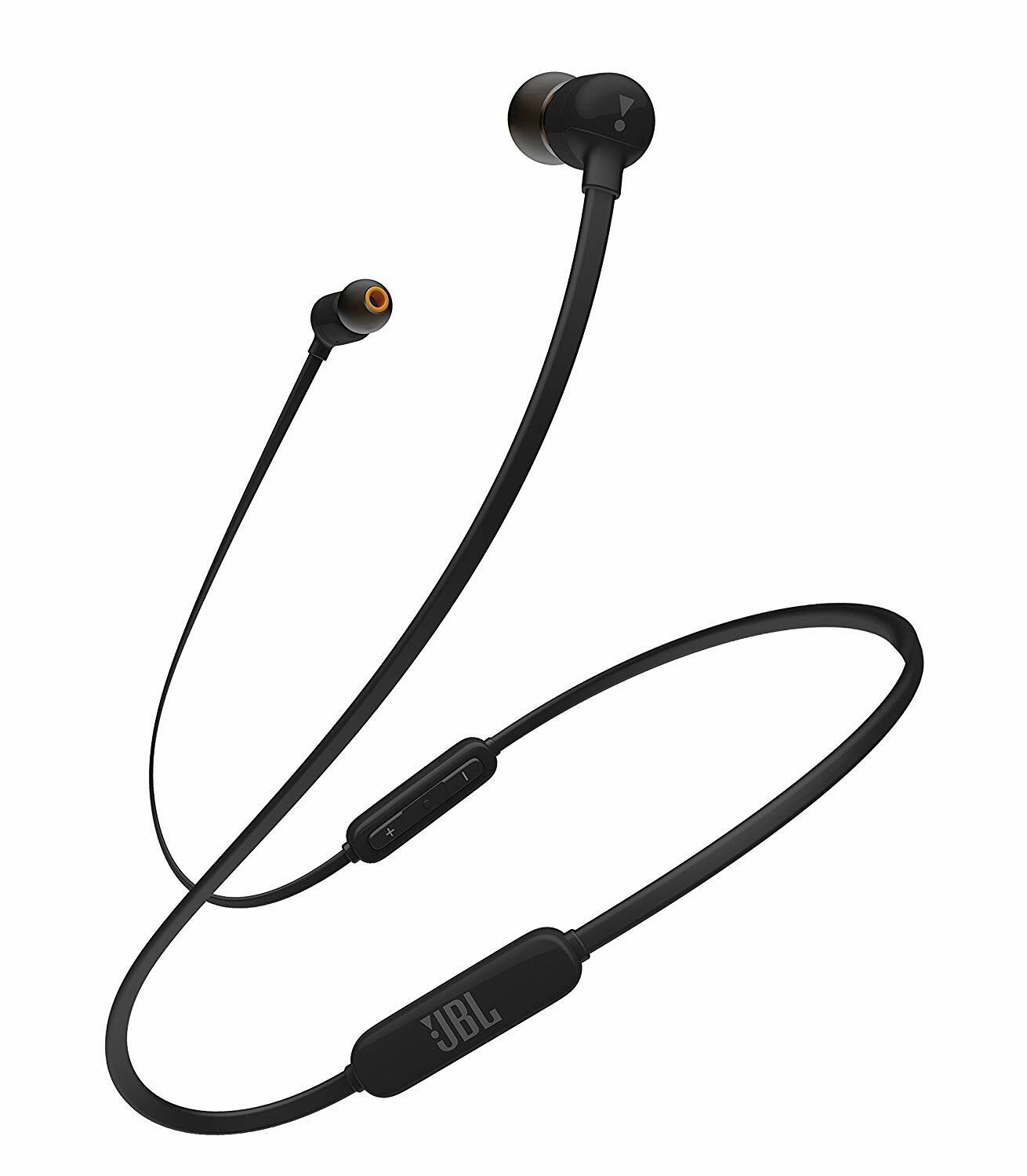 Tech Specs:
Earbuds cable length: 80.8cm
Weight: 16.2g
Silicone ear-tips: Yes
Bluetooth version: 4.0
Drivers size: 8.6mm
Number of drivers per ear: 1.0
Driver sensitivity at 1kHz/1mw (dB) v/pa
Impedance (ohms): 16.0
Dynamic frequency response range (Hz) 20Hz-20kHz
Battery type: Polymer Li-on battery (3.7v, 120mAh)
Charging time: 2 hours
Talk time: 6 hours
Packaging
In the packaging, the JBL Bluetooth earbuds are neatly placed within a plastic shell within the box. It has awesome colors which make the whole package two magnets in and out even more which is a nice thing. The packaging and earbuds do not seem to be extremely jammed in or compressed. Everything sits in place nice and neatly.
Design
Now as you may know, if you have ever bought a cheap pair of earbuds before, than I guess with these earbuds, they do feel a bit that way but because of the hype and style that they bring, it may just be that, that brings it out more. I must admit they do have a cool sense to them that which i'm trying to figure out whether it is the colors or just the JBL name. Now whereby the magnets in place hold together the two earbuds if you are to let them go. By simply leaving them placed around your neck, then joining them together at the buds structure they will hold together by the magnets that's within. The wire is made of a somewhat durable rubber but is not high grade by any means. I believe with these earbuds the hype about them lies solely in the sound that which we shall get to soon. The earbuds are made with a specific rubber band that goes around the neck and them as it follows to the front it is replaced with the wire that then connects to the speakers. There are many types of earbuds you can get out there and to see JBL make a cheaper type of earbud with the rubber neck band style just makes me think, why? when they could just leave them completely wireless. Also, with training earbuds you tend to need earbuds wireless that have a shorter cable and with these that's not the case. The wires and the rubber neck band is quite long and if your were to run in them, they could either fly into your face or completely fall off.
Battery Charge
The battery charge with the JBL T110 earbuds offer a full charged talk time of up to 6 hours. Now something that JBL says at there official website is that by charging the batteries for a measly 2 hours you will have them charged fully up, ready for that 6 hours, that's not bad if you ask me.
Comfort
Now expense can come in many different forms when buying different earbuds and that's also something we have here in the JBL earbuds. The price for the earbuds is cheap but the comfort isn't the best. As I mentioned earlier about the cable of the entire earbuds being rather long this makes them quite uncomfortable just when your running. With the rubber eartips you can generally get a good tight seal within your ear canal, so I don't believe that in this way they are that uncomfortable. In the box you will get extra ear tips also that which come in small, medium and large.
Looks
With JBL and these earbuds they have done one thing that in my opinion give the earbuds a high boost in sales, and that is, the looks. When you first receive your pair of earbuds and take a look at them it is like you have bought something expensive and real cool. Opening the box with excitement because the design along with the JBL logo printed on each earbuds feels the trends motion. I would quite happily wear these earbuds around knowing that people will ask, oh what sort of buds are they? they look great.
Operation
The operation of the earbuds is quite simple. First of all there are three buttons on the right hand side of the earbuds, and they control the volume, skip track and power on and off. The LED light that appears will indicate that the earbuds are in pairing mode or they have already been paired, this indication will be shown by flashing. The same LED light will turn and change colors to indicate if the earbuds have a full charge of battery or whether they are dying and need to be recharged. They are very simple to use and get used to so don't be to worried about that.
My overall thoughts on these earbuds is that I like them and would definitely buy them to have them for emergencies or if I was on a budget spending time. I can and do recommend them for other people to buy because they have also had great reviews over recent times. My thoughts on the comfort is they are pretty comfy it is just the long wires that get tangled. The sound is a sound that you would expect from all earbuds wireless worth the expense. The levels of bass remain high with low to mid trebles being reasonable. If your on a budget and want new earbuds then gives these a try, Im confident they will be a success for yourself.